浅野マミさん
Representative of a student organization for
refugee assistance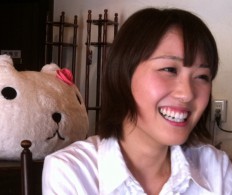 I'll be a light upon the world.

We bring you the series of interviews called "Big Generators", which contain interviews with people who radiate high energy levels around themselves, enough to affect others seriously and knock their heads off to change the world. The 8th interviewee of Big Generators is Mami Asano, a third year university student.
Mami established an organization for refugee assistance called "CLOVER" with many student volunteers in her first year in university. She has been interested in refugee issues from a young age and her great enthusiasm has influenced more than 100 students – I got really curious about such a charismatic woman.
Then a month later, we faced a woman whose smile and voice are really sweet. This interview portrays how this "angel" looks at the beautiful and ugly world.
*Interview at Akihabara
(with Masayuki Abe, Kanako Ishikawa, Reiko Kojima)
*英訳補助:ダニエル・ペンソ
Realities of the world in neighborhood
I visit East Japan Immigration Detention Center every Wednesday. It's commonly known as "Ushiku Relocation Center". I've heard that detainees including refugees in the center panicked when the 3.11 earthquake occurred. Some smashed the room windows and were stung by immigration officers. That kind of thing happened at a place which is only about 10km away from my university.
They are in my every day existence; they are not people in remote corners. Realities of the world persist in my neighborhood. So I always think of refugees.
All detainees are regarded as targets for forced expulsion procedures. "In our hearts, we want them to get out of Japan as soon as possible". I think that's the true feeling of the Immigration Bureau of Japan. But detainees, especially those who are in the process of applying for asylum, are afraid that they would be killed if they are returned to their countries. That's why they have to be detained for so long. That kind of disconnection is caused between the office and detainees.
Not only refugees but also illegal residents are housed in the center. However from the immigration point of view, all of them are undocumented people. If refugees apply for asylum and are rejected, they become illegal immigrants.
Refugee application is usually done at the Immigration Bureau of the Ministry of Justice. Most of them apply for that status some years after they get into Japan. I think they are afraid of deportation. They enter Japan, work here and apply for the refugee status. The Immigration Bureau may wonder why they don't apply when they enter here, but refugees think that the immigration authorities would rarely recognize them as refugees.
It takes about two years from the application to being given official refugee status on average. However in Japan, their applications are almost always rejected. For example out of 1202 applicants, only 39 were accepted two years ago. Japan has accepted an extremely small number of refugees compared to Western countries, about one-three hundredth of the number of those of the U.S.
A book
Actually my biological father died 6 months before I was born. He was killed in a scuba diving accident. I got to know that when I was a elementary school girl and I swore that I would live a long life for him. I decided to live for the good of others and I wanted to live with people who have happy faces. So I was willing to act foolish in order to see my friends happy.
It's of course important to tell refugee issues to people and raise the profile of them, but another thing was more appealing to me. "Fundamental to the creation of refugees might be a matter of our hearts" which means that we have thoughts that create conflicts across the world. There're seeds of them in our hearts, so we blame or criticize others, or have self-centered ideas. Everyone includes great men or government officers is like that so I decided to increase the number of people who care about others or desire happiness from others' when I was a primary schooler. I thought like that because I would be happier. Really simple reason.
I've enjoyed nonfiction books since I was a little girl. I found a book at a bookstore in my third year of junior high titled "Kaasan, Boku wa Ikite Imasu (Mom, I'm Still Hanging in There)" I was attracted to the title and grabbed it, and I couldn't stop crying after reading it.
It was written about a man who fled to Japan from Afghanistan. I didn't know that there were refugees in Japan and they were forced to live hard lives until then. I got the feeling that there should be something which I could do for people like him as a human being who lives in the same country as him.
People's power
I originally was interested in English, so I stayed in Australia for a year and three months when I was a hi-schooler. Then after I came back here, a friend of mine took me to an event. It's called Youth Summit which was held for students right before Hokkaido Toyako Summit. There were some special-interest groups that were discussing AIDS, environmental issues, etc and I joined a group which was discussing refugee issues. There were nine people there and everybody else was an university student. But I clicked with others because all of us felt that we should inform Japanese society of the present status of refugees. Then I wanted to talk about the issues to as many people as I could.
I don't know whether my thoughts were conveyed to others, but I had an opportunity to go to the detention center of the immigration office in Nagoya with a person who was involved in the refugee issues. Then I met a man from Pakistan there. He was more of an illegal resident than a refugee. His wife was Japanese and she asked a high school sophomore to help him out tearfully.
So I went and saw him. He said, "I'm really afraid of being deported". But I had very limited knowledge of the issue, so I had no idea what I could say.
However he told me that he felt better when he talked with me. He said that he could have hope when he felt that there was at least one person who listened to him seriously. But I was gripped by a sense of powerlessness. "I can do nothing for him".
At that time someone launched signature-collecting campaigns to save him. I wanted to reward him by working on it with all my might.
I was a vice president of a student council at my high school, so I used my connection to show students the truth. Even though he and his wife really loved each other, they were suspected of fake marriage and he was about to be deported. Does the government have right to disrupt their serious relationship? – I called for students.
Then many people got interested in my activities and some friends backed me up. We gathered many signatures. Other citizen groups were collecting petition signatures as well and we submitted them to the immigration office.
They said "we'll never deport him back to his homeland". But actually the process for forced deportation was developed behind the scenes. I felt that things that we were working on winded up with nothing.
But there was a change. Our effort contributed to his temporary release. It was only a 3-month period, but they could spend time together. If we didn't do anything, he would have been sent back.
I really thought that people's power is enormous. A little high school girl could contribute to the move, so I thought I would be able to create changes more if I worked on it more – The experience of bringing about change by taking action. So I got involved in NGO or groups supporting refugees in Japan more even though I had to steer my own course.
"Assemble 100 people"
I entered the University of Tsukuba to dig deep into international relationship and refugee issues. But I felt the gap between the actual world and lectures after a while. Ushiku Relocation Center is very close to my university. That's also why I chose Tsukuba University, but I didn't do anything for things that happened in the center. I felt frustrated because I'd been working on the issues since I was a high-schooler.
So I took advice from my old teacher. He suggested I assemble 100 people who were on the same page. It sounded exciting for me.
One day I planned a study meeting to talk about the circumstances of refugees in Japan. I held a big room, sent tons of emails and passed out leaflets to students. As a result, 50 people joined the meeting. I asked them if they wanted to join the refugee relief activities. All of them said YES. I received assurance that I would be able to gather 100. Then I launched CLOVER. The date of establishment was October 29, 2009. The day of the study meeting.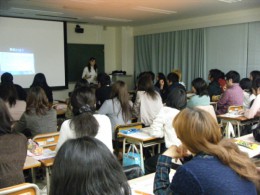 CLOVER's first study meeting
October 29, 2009 
The origin of the name CLOVER is from the idea of giving love and pleasure like we feel when we find a four-leaf clover, but there's another meaning. My theme is "Love and Care", moreover they are for Refugees – Care & LOVE for Refugees – that's what CLOVER stands for.
I believe that what you think is more important than what you do.I never solicited or gathered people desperately when I launched CLOVER. I just wanted to tell them that there are refugees in Japan and they were experiencing difficulties and wanted to sow seeds of happiness. Then people gathered around me naturally.
Act first, think later
But we stumbled around in the dark. First of all, we didn't know what we should do. We had a cause of refugee support, but we didn't know what we should do specifically. We had philosophy but no goal. So I thought "Let's go to Ushiku and see detained refugees first!"
Then we learned which kinds of things they wanted gradually. For example, translation. When refugees voice opposition after their refugee applications are rejected, the documents must be written in Japanese. If they ask for translation to translation agencies, refugees need to pay high fees. So we volunteered to do that.
Also we formed "Language support team" which assists their lives during the temporary release, "Visitation and giving compliments team" which gives dictionaries or music CDs to the detained refugees. We acted first and learned what they wanted, then we decided what to do. We don't support refugees, "we walk with refugees", so we didn't want to work on something which they didn't need.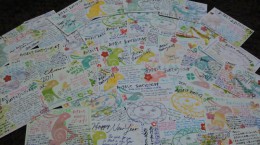 New Year's cards for detainees
A comfortable inconvenient world
I joined an internship of NGO called "Shanti Volunteer Association" at a refugee camp on the Thai-Myanma border for a month from this July.
While you are in a camp, things are always given to you. There are even people who end their lives there. Then they lose their own vision for their lives in the future.
But on the other hand, kids are eager to study abroad to be teachers or help others in the camp. It means that kids that want to live in "the free world where you have to move voluntarily and get something" become adults who chose "the inconvenient world where things are always given to them". "What is a refugee camp? And how should it be?" I thought deeply. So I want to be involved in a project which assists kids who have dreams to be adults who desire the same dreams.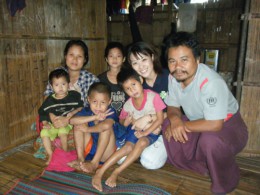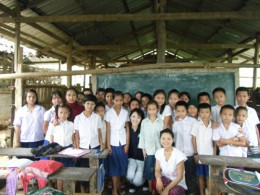 At a refugee camp on Thai-Myanma border
Summer of 2011
Going into a wider world
CLOVER is a place where you can use your independence and abilities and confront refugees in person. Also how you should be is questioned through our activities, so you reflect on yourself automatically. I think there are a few groups which provide such opportunities to students.
However I'll graduate university the year after next. It means that I'll have to leave CLOVER because it's a student group. We have to decide the way to go before too long.
Now I'm thinking about working on grass-roots refugee support activities. Then I'll obtain a Master degree by using those experiences and work for an international organization like the United Nations to tackle the refugee issues. Since I went to a refugee camp on the Thai-Myanma border and met people who fled down there with little more than the clothes on their backs, I've been thinking that I want to see the bigger world. I thought that I should learn a lot more as I learn about the issues.
That's why I'll leave CLOVER after I graduate university. On the other hand, I will leave it as a student group, not an NPO or NGO. CLOVER is very small so even students can join it easily. Then people who desire to see others' happy and care about beloved ones in front of them will increase. If students can cultivate this mindset before going out into the world, they'll be the lights which brighten up society and pave the way to a better world. People who do those things are not someone else, we'll be the ones.
Then I return my fruits to CLOVER. That's my ideal.
My driving force is not good will
I've faced more than 100 refugees through the activities. When I went to see them, I gave compliments to them with cards saying like "You're not alone" "We're your friends". Some of them told us "I've been really embittered so far, but when I look at this card, I forget every bad thing and I'm teary with joy. So I put this on a wall". He used to be a teacher from Pakistan and his words gave me much confidence.
Also I tell myself "Mami, just be yourself" by working on CLOVER. Some might think I'm great, but I think I'm led by something. I've worked on things in front of me and cleared the way automatically. That's not in my power.
Creating changes
"I'll be a light upon the world" – that's my goal. I'll be happy if I can shed light on someone's heart. Living means being kept alive by someone else. So I want to be helpful to those who keep me alive.
"This part of our society is bad" "That part is bad" Anyone can say that. But I think "Who is going to move to improve society?" is important. If someone asks me the reason why I work on refugees, I ask him/her back "Who does this?". Huge energy is necessary to change society, but I want to be one of those changemakers.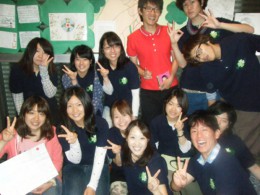 With CLOVER members
*Photos provided by Mami Asano 
What does Mami's ideal world look like?
The world where everyone can say I'm happy.
Happiness is not that far from you. You can breathe, you can read sentences. The thing is whether you can feel happinesses. I believe that, no matter how small something is, if the number of people who feel happy increases, society will be happier. Realizing that may be difficult but it would be fun if we could be one step closer to it.
Someday, I'd like to hear the side of those who created the refugees. They are humans just like you and me, aren't they? They must have a daily life with important family members, friends and sweethearts. These things are the same as ours. If we can face each other as human beings, then we can surely appeal to each other.
I believe in the goodness of people.
Mami's Links
CLOVER's blog:http://cloveryouth.blog109.fc2.com/ (Japanese)
Mami's blog:http://ameblo.jp/care–love/ (Japanese)
*Twitter : http://twitter.com/Mami_CLOVER