My Eyes Tokyo was launched in October 2006. I (Isao Tokuhashi, a founder of My Eyes Tokyo) had some experiences interacting with foreigners in Japan before that. I was really interested in what they looked at and what they felt about their daily life in Japan. That's the reason I started this project. "My Eyes" in the name of this website means the expats' points of view of Tokyo and Japan.
Also I wanted to transmit the current situation in Japan to people in the rest of the world. Many people know very much about traditional Japan but I wanted them to know about modern aspects of Japan, too. My Eyes Tokyo brings you many stories of foreigners who are now living in modern Japanese society. I hope this website would be helpful for those who want to travel to Japan or live in Japan.
Now My Eyes Tokyo has interview articles and a radio show (*archive) – we would like to contribute to helping Japan be a good place to live for people from any background and a place to visit for people from many different countries.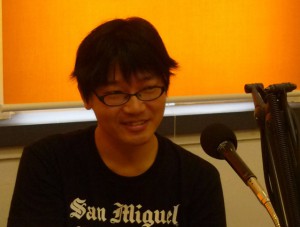 Isao Tokuhashi (Founder of My Eyes Tokyo)
General Manager
Radio program  (- March 31, 2012) 
Arlene Kuroda
Maya Fujimura
Web Design & Development
Yuka Kayamori at Atlier-K of KAY-WAVE
Proofreader (English)
Daniel Penso Read more >>
Visit our Facebook/Twitter page!
● Facebook: http://www.facebook.com/myeyestokyo
● Twitter: https://twitter.com/myeyestokyo
Listen to our radio show on Chuo FM 84.0!
* Ended on March 31, 2012 
http://fm840.jp/blog/myeyestokyo/ *You can listen to our voices on it!
☆☆☆ May we help you? ☆☆☆
● Translation (English → Japanese)
● Interviewing and writing
● Radio MC (Japanese/English)
● Host of events (Japanese/English)
● Making videos (Plotting/covering/shooting/editing)
Career of Isao Tokuhashi, My Eyes Tokyo founder 
Charges/fees are negotiable. If you're interested, send an e-mail to myeyestokyo★gmail.com.
(ATTN; Isao Tokuhashi) *Change ★ to @.
Thank you very much!