Japanese-English translation is perfect

!

● The 1st level of Japanese Language Aptitude Test.
● Japanese teacher 420-hour cultivation lecture   Completion
● TEFL(Teaching English as a Foreign Language)
● Experienced in English instruction for many years(at Tokyo and Saitama)
● Third level of the Practical Thai Language Proficiency Test
● There is also a track record of English-Japanese translation!
The main translation track records
● The contract in a joint enterprise
● The contract of real estate
● Judicial affidavit
● Embassy related documents (letter etc.)
● Fan letter
●  Books of fingernails
● An electrical machinery operation manual
● English proofreading of the whole of "Meine Augen-Tokyo" Website and all the interview pages.
Translation charge
● J→E: ¥10/word (Ordinary charge) ¥8/word (MET special charge)
● E→J: ¥12/word (Ordinary charge) ¥10/word (MET special charge)
Skype for further information

!

ID: denadachi1223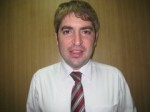 I'm looking forward to hearing from you!
Inquiry form