Interviewed & written by Isao Tokuhashi
Mail to: itokuhashi@myeyestokyo.com
Bangladeshi cuisine restaurant (Ota-ku, Tokyo)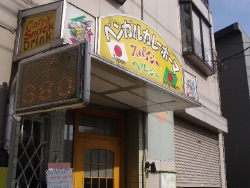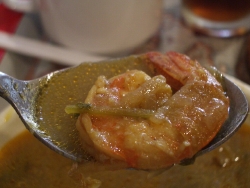 There are many restaurants that are run by Bangladeshis but "Bangladeshi restaurants" that serve only Bangladeshi cuisine are but a very limited number.
"Bengal" in the name of this restaurant means the place where MD Humayun, a managing chef of this restaurant, was born and raised in. Humayun put the name of his birthplace in the restaurant because he wanted to serve a taste of home with pride.
Curry which is cooked by Humayun is very mild. He cooks and serves Bangladeshi home-style dishes. He welcomes customers with his smile, which represents the mild taste of his meals.
(Interview with MD Humayun, managing chef)
*Edited by Daniel Penso
校正協力:ダニエル・ペンソ
There are many restaurants that serve both Bangladeshi and Indian food in Tokyo. But This is a Bangladeshi restaurant which is rare in Tokyo.
I'm Bangladeshi. My home is Bangladesh so if I opened an Indian restaurant, people would wonder what kind of food I served or where I'm from.
If you open a Japanese restaurant abroad, you put the Japanese national flag somewhere in your shop somehow. If you put both a Japanese flag and another country's one on a menu, people would get confused.
Whether this shop enjoys strong sales or not doesn't matter. Even if I close this shop, people would tell someone that there used to be a Bangladeshi restaurant here. I want this restaurant to be like that.
I've worked at various kinds of restaurants but I didn't want to do what other ones did because we have our own food culture. If Japanese people love our food, they say Bangladeshi food is delicious. If they don't think it's good, they won't come here anymore. I wanted my shop to be a love-it-or-hate-it one.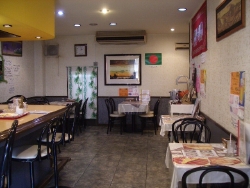 I think you made a big gamble. If they felt that your dishes were terrible, they would think Bangladeshi food was bad.
I've wanted to tell our food culture to Japanese people since I came here. Many people still don't know about my country and ask me where Bangladesh is.
But once I show them our national flag, they get interested in my country because the Bangladeshi flag and Japanese one look very similar.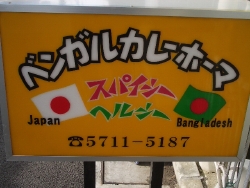 Both Japanese flag and Bangladeshi one are on the shop's nameboard.
 As he said, those look similar!
But I think you had your gamble paid off. When I ate a lunch here for the first time, I felt that a taste of meal was very mild.
I make every meal by hand, even dressing because I make home-style meals that mothers cook their children in Bangladesh. I don't arrange the food to meet Japanese tastes but people who can't eat hot curry at other shops come to my restaurant.
Curry soup and rice are put in big bowls.
That's something different from Indian style. We put meals in big bowls. India and Bangladesh are next-door but the manner in which to prepare dishes is different from each other.
No other Bangladeshi restaurants serve like this way but if I don't show our style to people, they won't be able to learn about Bangladesh.
I serve meals that are cooked at Indian restaurants. But those are seasoned to our favorite taste. I will never be able to serve Indian-flavored dishes as a Bangladeshi.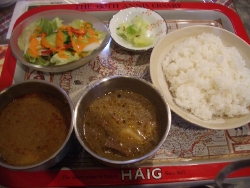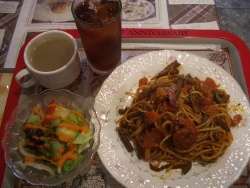 (Left) Two kinds of curry soups and steamed rice which is put in a big bowl.
(Right) Bangladeshi pasta meal (Boiled shrimps on curry-flavored pasta).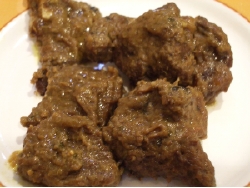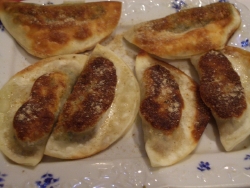 (Left) Humayun's recommend, "Bhuna gosht" (stir-fried lamb curry)
(Right) Fish paste-stuffed dumplings.
I've heard that your father owns his own restaurant. Did you draw upon his restaurant's menu?
Yes. But I had no idea what kind of taste Japanese people liked. Moreover many of them don't know about Bangladeshi cuisine. So I had to put explanations of each food on the menu in Japanese. If you can't tell people that it is delicious, they won't order it. So it took about 20 years for me to learn what they liked and how to attract them.
Have you changed menu since you opened this restaurant in July 2004?
Yes, so food which I serve here now enjoy a good reputation. But I think there is still room for improvement.
Do you get ingredients from Bangladesh or in Japan?
As for rice, I use Bangladeshi-grown one for biriani (a South Asian dish made with highly seasoned rice and meat/fish/vegetables). A prior reservation of at least four people is essential for it to be served. And I use Japanese one for other rice-based food. If I use rice imported from Bangladesh, I have to set the price of meals high.
I purchase meat and vegetables at a couple of shops in Japan. I buy each kind of meat/vegetables at different stores. As for spices for curry, I import them from Bangladesh. I import cooking oil from there as well.
So I spend much money on ingredients. But I want Japanese people to eat real Bangladesh food and I want to hear them say it is delicious.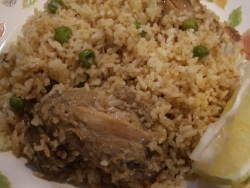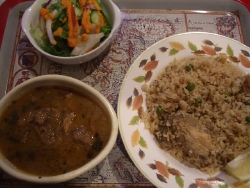 You can enjoy biriani with curry or without curry, whichever!
Do Bangladeshi people come here to eat?
Sometimes. They come here from a distance. Some of them found this restaurant when they were driving around here. They stopped, got off their cars and came here.
But 99% of our customers are Japanese. 1% of them are foreigners who come from the US, the UK, Peru and so on. Bangladeshi is relatively in the minority.
This area is kind of far from the heart of Tokyo. Why did you open a restaurant here?
I've been living in this area since I came to Tokyo. But if I opened my own shop in a prestigious downtown location, I would cook many kinds of dishes to the point of customers feeling overwhelmed by all the options. I have such a large cooking repertoire. But I don't need to cook many dishes here.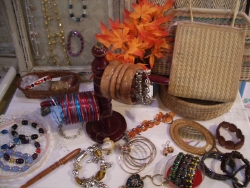 Fancy goods that are made in Bangladesh are sold at this restaurant.
But this is the only Bangladesh restaurant in this area. Didn't you think, "What'll I do if Japanese people don't like my food?"
I think there should be many eccentric shops in Tokyo. Even if a restaurant looks strange, people go there if they serve delicious food.
Come to think of it, you started off at a disadvantage. You opened a peculiar restaurant far from downtown.
Actually someone said that I should open a shop in a better location. I was really happy on the inside at that time. But I opened this shop here because there is no Bangladeshi restaurant. You won't know whether people come here until you try.
Actually I felt uneasy about the future after opening. First year finished, second year finished and I felt easy at last. But I've been in a bad situation since fall 2008.
So now I must be patient. Nobody knows what's going to happen tomorrow.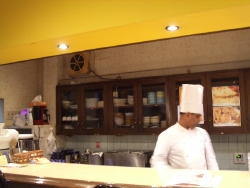 Bengal Curry Huma
4-8-9 Nishi-rokugo, Ota-ku, Tokyo
(The nearest station: Keikyu Line Rokugo-dote)
Phone:(From overseas) +81-3-5711-518
(In Japan) 03-5711-5187
Opening hour: 11:30AM – 2PM/5PM – 9PM
Shop holiday: Wednesdays

*Interview with MD Humayun, a managing chef … Click here!