Interviewed & written by Isao Tokuhashi
Mail to: itokuhashi@myeyestokyo.com
Naoko Tanase
Cooking school representative

Today's interviewee is a Japanese woman who manages a school called "Niki's Kitchen", which operates cooking classes in Tokyo and the suburbs.
Its cooking classes are very unique. Firstly, you can learn "home-style dishes" of different countries from foreign cooks. Secondly, each class is held at a cook's house. And lastly, you can learn whatever and whenever you want because it's not membership-based. Those are the most distinctive features of Niki's Kitchen.
I got interested in its concept, "Learning various home-style dishes at foreign cooks' houses" when I found it on a Japanese weekly magazine the end of July 2010.
At a Korean cuisine class in Yokohama, students were trying to cook Korean homemade food which is rarely served at Korean restaurants in Japan. I thought that it's a really deep level of cultural exchange. I couldn't stand still so I made a phone call to Naoko Tanase, a representative of Niki's Kitchen.
*Edited by Daniel Penso
校正協力:ダニエル・ペンソ
Niki's Kitchen is the kind of culinary class that I didn't think was out there but was. It's deceptively difficult to realize your idea of turning each home into a cooking class.
I think I couldn't realize my idea in other countries because of the security problem. People wouldn't invite strangers into their houses and teach them how to cook. Especially since Niki's Kitchen allows free access.
If it was membership-only, the security of your students would have been ensured. Why didn't you adopt the membership system?
Because I wanted to create a kind of a open society as my neighborhood used to be.
Where I come from, we didn't lock the door when we went out to get some stuff when I was a child. We used to borrow seasonings from my neighbors or stand talking with them by the door. But those kinds of things faded away as I grew up.
A foreign friend of mine said that Japanese don't have him over even though they often say "Feel free to drop in anytime". We say that at as a sort of greeting but foreigners often don't understand what we mean. If they tell someone "come to my house", they're actually welcoming that person over. So I wanted to create a community in which everybody would welcome in guests from their heart.
I tell my students "Treasure every encounter, for it will never reoccur". You would never have dishes which you cooked. You would never meet people who you cooked something with. You would never meet teachers who taught you how to cook. Because Niki's Kitchen doesn't adopt the membership system and everyone has free access to classes.
Also as a result of free access, you may encounter people you disagree with. But I think it's normal in society.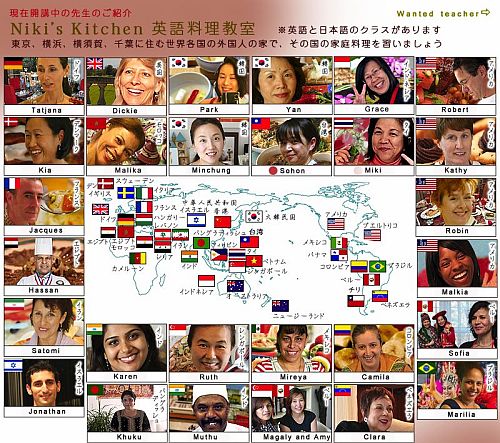 Experienced teachers of Niki's Kitchen.
When did you start the cooking school?
September 2000. Originally I was interested in popular dishes or cuisine for tourists when I went overseas. For example, I ate only nasi goreng or mi goreng when I went to Indonesia.
I wonder why you opened a "home-cooking school".
I used to upload cooking recipes that I learned from my foreign friends on a website. At that time, over a decade ago, it was really interesting for me to hear unlikely serving ideas from them because we didn't have a wide selection of cookbooks. I still remember that someone suggested to me to knead spaghetti into piecrust.
Then I came up to an idea. "If I can go to foreigners' houses and learn their recipes, it would be very interesting!". And I thought that it would be interesting not only for me but also for others. I wanted to learn how to cook real Indian curry so I looked for an Indian woman who could teach me. That was the beginning of Niki's Kitchen.
Then I posted a recruitment advertisment on bulletin boards at supermarkets. Also I called foreign women but they said "It's scary inviting strange Japanese into my home" "It'll be impossible to have a class in my home because my kitchen is very small". There were some people who liked my proposal, but their family opposed it. So it became challenging to find teachers. It took a month to find the first one.
Did you meet some people all that time?
Yes, I did. But actually there were some women whom I declined. For example, a woman brought slices of bread and a frozen hamburger steak and made something. She said that she was making a hamburger… I asked her to leave.
Finally I found a good teacher. She was a 21-year-old American woman who taught me how to cook cupcakes or Christmas dishes. Then the number of teachers increased.
But young teachers easily deflate. If students say they don't like dishes, young teachers get shocked. Some young teachers quit because their students said "This ingredient is not popular in Japan".
In that respect, older women thrive on adversity. Because they have been told "Mom, it doesn't taste good" by their children many times. So many of our teachers are kind of old. Moreover, their husbands or children are very supportive.
Teachers say that they are happy with my school because they can see Japanese through cooking. The same could be said of Japanese students. They also can go deep into foreign food cultures.
I heard that your school became very popular so some students have to wait for cancellations in order to take classes which they're interested in.
Rather, their sentiments run high for certain cuisines. Even if a teacher says "this dish is good", students are interested in other ones… that often happens especially when we tell them that we are offering classes of famous cuisines. The number of students depends on the menu even with the same teachers. But of course there is an exception like Ms. Yan from South Korea.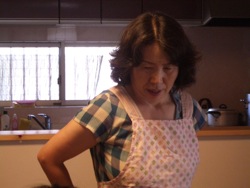 Ms Yan(S Korea)
Her page on Niki's Kicthen (Japanese):Click!
I joined her class and I felt that there was no wall at all between Ms. Yan and her students.
Because Yan is very friendly like an old neighbor. As I mentioned, old women are good at teaching how to cook. And the same is true of men. The average age of female teachers is over 50, the average age of male teachers is over 40.
They have a good relationship with their students so some come to classes in order to forget it all.
Which kinds of students are learning at your school?
It depends on the cuisine which they want to learn. For example, students who learn Asian dishes like rice. Students who learn American food also want to learn English. Students who learn European cuisine are originally well-heeled or career-crazed.
This year, South American and Korean are popular among my students. European was popular last year, China-related food(including from Hong Kong, Taiwan and Vietnam)was big two years ago. It's because countries where teachers come from vary from year to year.
Even if it were the same cuisine, the number of students rises and falls. If nobody reserves a class, students tend to think "No reservation means there is something wrong with a class". I can do nothing about it.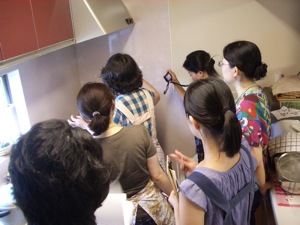 Yan's cooking class(Yokohama)
August 7, 2010
Now I'm puzzled about problems created by high concentration of popularity in some cuisines. But when I opened this school, I had only four students a month including me. I had a couple of teachers at that time. But after a women's magazine covered my school in 2001, the number of students flew off the charts.
Do you have any other problem?
The most important assignment which I have to work on is to bridge cultural gaps between foreign teachers and Japanese students. That's a really huge task for me.
How people interact with one another varies from country to country. People from warm regions differ greatly from those in cold ones.
People from southern countries always smile because they produce tons of fruits or vegetables. So they tend to cook boldly.
On the other hand, people from northern countries keep poker faces even when they have much food. Because others get to know you have food if you have a smile on your face. And they choose ingredients and weigh each of them on a scale when they cook. If anything, Japan is one of northern countries so we feel that northern people's way is kinder to us. In the other way, southern people attach a great deal of importance to tasting. They don't tend to weigh in.
Also if your teachers are from Japan, Taiwan or South Korea, they would feel that your questions are distractions in their classes. So they give you precise instruction on how to cook in order to cover any question. On the other hand, teachers from Europe and US think that you're passionate about classes if you ask something. So they teach you roughly in order to leave room for questions. We feel that the Asian way is kinder so teachers from Europe and the US experience hardship.
Students who are passionate about the virtue of the Japanese way feel discontented with European or American way. But if I ask them to teach in the Japanese way, Niki's Kitchen will be over.
There are many kinds of gaps in the world. But if teachers feel gaps more than expected or their families oppose their activities(classes are held at home), some quit. The same thing happens with students. They face cultural gaps when they learn cooking. So both teachers and students need to be tolerant.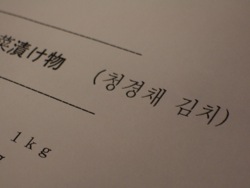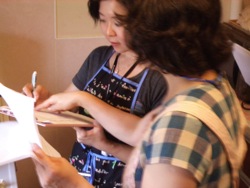 Students were learning cooking with a recipe, which Yan prepared.
Also some teachers don't give recipes to students even though I ask them to do so. They say "I cannot prepare recipes because I cook freely" "Nobody will memorize what recipes say. So I think looking with your eyes and feeling with your hands are the best ways to learn cooking". As for ingredients, they say they use ingredients that are available on the day, so they don't know what they cook until then. But I think cooking with recipes is preferable for Japanese students so I ask them to use them.
Some teachers say YES but others still say NO. At classes that use no recipes, there are two groups; "I enjoy learning without a recipe!" and "I cannot learn without recipes!".
Moreover some teachers say "I cannot cook what I want because my students don't like that" "Some students ask me to teach in the Japanese way" "There are students who seem to get bored with my class".
That's why I always have to be sensitive to cultural gaps between teachers and students and bridge them. My school has a high teacher turnover and students come and go freely… that's the epitome of this chaotic world. I need to do tons of things to achieve stable management of Niki's Kitchen.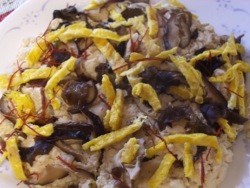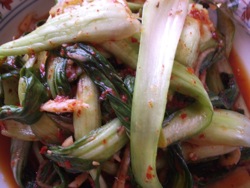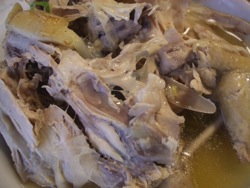 Yan and her students cooked these. Look delicious!
What do you want Niki's Kitchen to be?
I want it to go with the flow.
It has grown little by little. People have joined together and the wave of exchange has expanded. So I don't want it to grow rapidly. Also it's dangerous for teachers if it mushrooms, because teachers' houses are our classes.
Moreover, it takes much time for people to be full-grown teachers so I cannot increase the number of them too rapidly.
I'll be very happy if the number of those who get interested in teaching at Niki's Kitchen by inches and join me to create a better cooking school. Then the number of students will also increase and…
I want to display foods of the world to people's senses through Niki's Kitchen.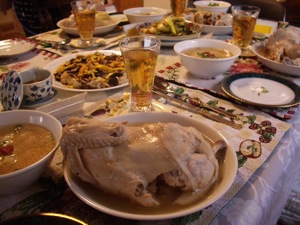 Tanase's Links
Niki's Kitchen: http://www.nikikitchen.com/ (Mainly Japanese)
*Teachers' list : http://www.nikikitchen.com/teacher.htm (J/E)
*Twitter:http://twitter.com/nikikitchen