Interviewed & written by Isao Tokuhashi
Mail to: itokuhashi@myeyestokyo.com
Robert Koch (South Africa)
Audio products manufacturer
(He's been in Japan since 2006)
My Eyes Tokyo had its first interview with a South African guy, Robert Koch, a craftsman who makes high end audio products in Tokyo.
South Africa is the host country for the FIFA World Cup 2010, which will be held from June 11 to July 11, 2010. So the country is drawing attention from all over the world.
But on the other hand, there are concerns about its security. Also South Africa used to adopt a system of separation called "apartheid", which is a kind of a negative heritage.
Robert told us about security matters and people's lifestyles under apartheid as much as he could. Also his background, what led him to Japan, a country which is more than 13,000km from South Africa.
*Interview at Robert Koda LLC (Itabashi, Tokyo)
Tips for World Cup goers
As everybody knows, the FIFA World Cup 2010 will be held in my country. You're worried about its public safety so I'll give you some tips.
I think it depends on where you are. There are certain areas to avoid so ask hotel staff and take advice from them. If you think about going somewhere, ask them before you go.
And remember there are no real bus services or real train services. Trains are usually used for carrying materials in South Africa so there is very little public transport.
So a guided tour or a package tour with a tour guide is probably the best thing, especially if you can't speak English.
Shopping malls and suburb areas are safe. Also they have good security around the stadiums. On the other hand, the center of the city is not safe especially at night.
If you have something stolen, don't try to fight to get it back. There are people who will kill you for only ten thousand yen (US$100) there.
Multicultural environment under apartheid
I came from the city called Pietermaritzburg, which is close to the east coast of South Africa. It's a safe city. There are many black people, white people and Indians. And there are a few Chinese, mostly people from Taiwan who came to have a better lifestyle.
But my elementary school, junior high school and senior school were whites-only because of apartheid. Those were public schools and a couple of years after I finished, they became mixed schools.
Private schools were always mixed. Because if you had money, anybody could enter them. But rich black people were obviously a very small minority at that time.
Also for example, one would often see a huge mansion like a castle in a Black residential area which had small houses lined next to it. Also some rich Blacks bought properties in white areas to build a fancy house. But there was a law called "The group areas act" that prevented them from legally living there. This law (like the mixed marriages act) was thankfully abandoned some time before Nelson Mandela became our President.
A Japanese artisan
I'm a manufacturer of high end audio systems in Tokyo. The name of my brand is "Robert Koda". Before I established my company, I worked for the Japanese audio manufacturer called Audio Note (Kondo), which was one of the most expensive brands at that time. The founder of Audio Note, Mr. Kondo, brought me to Japan to work with him. That was 12 years ago.
I went back and forth between South Africa and Japan many times. I used to work for a high end audio distributer in South Africa. Japan was developed in manufacturing high end audio so both of us came together very nicely. That's why I joined Mr. Kondo's brand.
But actually I quit many times and rejoined them many times. I moved to and from Japan and South Africa. I know it's very unusual in Japanese custom. Here in Japan, you never join a company you quit before. But I quit Kondo Audio three times and joined them three times. I think it was a love-hate relationship.
Visiting and living are different
The first time I came here must have been about 15 years ago. I went to Los Angeles via Tokyo. I guess I was in my twenties at that time but I was very impressed by Japan. Very clean, very organized, very safe, very exciting especially for mid twenties. Then I came here many times to work with Japanese Audio people.
But I hesitated to "live" here very much. Visiting and living are too completely different. There is no "real" suburb around Tokyo. I imagined that there would be cozy residential areas in suburbs of Tokyo. But actually, for example, my home is in a kind of suburb area but there are still a lot of small houses and high buildings.
My son encouraged me
I decided to stay here in Japan when my son was born. He was born in Japan. Now he is four, which means I've been living here for four years.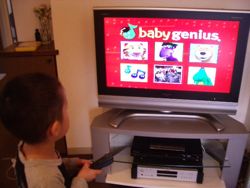 His beloved son, David.
I got married to a Japanese woman. She lived in South Africa for six months but it was difficult for her to adjust to South African lifestyle. She couldn't drive a car, which was a big problem there. Unless you drive a car, it would be very difficult for you to live there. So we came here to live.
However, one has to make compromises. It was mostly about my wife and son. My wife has been in this area (Itabashi, about 20km away from central Tokyo) so I needed to put down new roots here.
Launching a brand
After I started to live here, I joined Audio Note (Kondo) again. I've worked there for two years. On the other hand, I was collecting many kinds of parts for audio manufacturing on weekends. That means I was preparing for my own business.
Then I established my brand "Robert Koda" two years ago. Originally my background is sales. But I've learned manufacturing through self-education. I've learned about audio and electronics since I was 12.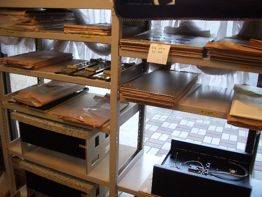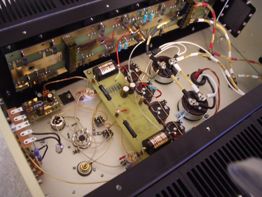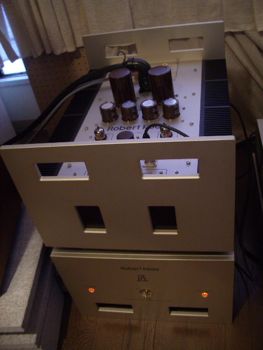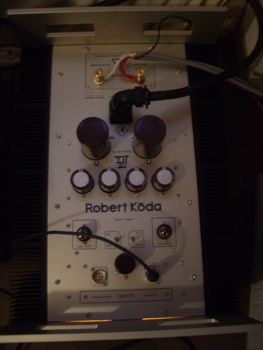 He manufactures this kind of high end audio system by himself. Price of the amplifier, 
Takumi K-70, is $40,000. His production is limited to 20 sets per year if he works six days a week.
No market in Japan yet
I would like it to attract more people. All of my customers are overseas, not in Japan.
We haven't found a suitable distributor here. Also the Japanese economy has been slowing down. High end audio systems are very expensive. Some of them are more expensive than houses. We look at something in the future, but at this moment my focus is not on Japan.
Now South Korea has a much bigger market than Japan. Also China and Russia have big markets thanks to young wealthy people so called "new-rich". They are very important for me.
I'm going to develop Russian, Korean, Chinese, American and German market. Those kinds of markets are really attractive. However, if I started business 20 yeas ago, the Japanese market would have been really attractive.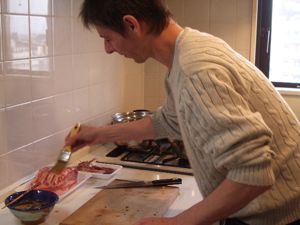 He loves cooking very much!
What is Japan to you?
Tokyo is a good place to base business in Japan.
Made-in-Japan products still have a good reputation. So if you want to start your business in Japan, you should launch it here in Tokyo first.
But to be honest, I have gotten tired of the lifestyle in Tokyo. And Tokyo gives kids an unhealthy lifestyle.
I'm not going to live here another four years. If I was a young boy, Tokyo would be a wonderful city.
Robert's Link
Robert Koda LLC:http://robert-koda.com/