Interviewed & written by Isao Tokuhashi
Mail to: itokuhashi@myeyestokyo.com
Clara Nakazato (Venezuela)
Venezuelan cuisine instructor
(She's been in Japan since '95)
The 4th interviewee of "MET × Niki's Kitchen" is Clara Nakazato, a woman from Venezuela, South America. She is encompassing, envelopes her students in a warm hug. Her Japanese husband has a warm personality as well as Clara and the couple creates an aura of peace and harmony.
Clara never builds a wall. She has no hesitation about anything. She tries any food even if it's new to her. To people as well, she never distinguishes people by race, nationality or skin color. She looks at you the way you are.
I realized that the cosmopolitan means "broad-minded person" through the interview with her.
*Interview in Yotsuya (Shinjuku-ku, Tokyo)
*Edited by Daniel Penso
校正協力:ダニエル・ペンソ
What are instructors for?
I think homemade cooking is better than other cuisines, better than four-star meals because many famous chefs learned cooking from their mothers. Fresh, homey, friendly ambience… Those are important things when we teach home cooking.
Also I believe that the best way of sharing things with others is like Niki's. Sitting on chairs, sitting around a table and having fun conversations. In the middle of cooking and at the table, we have different types of conversations. People come here from different areas around Tokyo. They work together and share something together. I think this is a great way to meet new friends. Some are shy and they don't know what to do when they come here, but they bond with each other little by little. They learn how to interact with others here.
So our role is to make them interact with each other.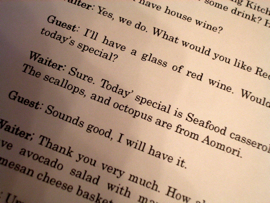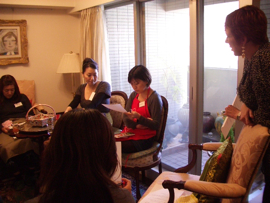 They learn English conversation before cooking lessons.
January 16, 2011
My husband was touched by my dishes, then cried
My cooking experience comes from my grandmother. My family members – about 30 people – got together to have breakfast or lunch every Sunday. My grandma was a chef and made criollo, a typical Venezuelan homemade food. And my father helped my grandma a lot. My mother loves cooking, table setting and entertaining people so I learned many things from them.
But I'd never grabbed a kitchen knife until I got married. The first dinner I cooked was… He was so touched that he cried. Because it was really good – according to him – and many different dishes were put on the table. I think I learned how to cook from my grandma and parents before I knew it.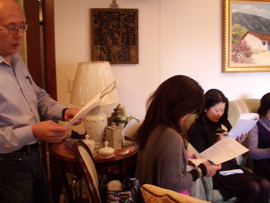 Her husband explains about recipes to students in Japanese.
He prefers to call himself "Clara's good assistant".
Anything-goes world
I joined Niki's Kitchen because I like sharing my things or heritages with others. And I thought that it would be a good opportunity to welcome new people. It's a joy for me to talk about my country, how we made a cross-cultural marriage and a fusion of Venezuelan and Japanese culture. We show students both Venezuelan and Japanese sense of gratitude for the hospitality.
There's no barrier. You can combine your ideas and ideas from other countries, try to make something and welcome the results.
We're happy to be a part of Niki's, which fosters young people. My husband says that Niki's gives him an opportunity to meet people from many different backgrounds. He also enjoys talking to them and listening to their stories.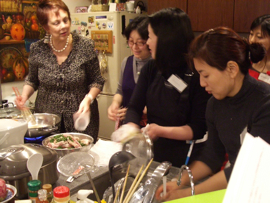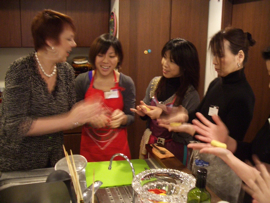 Clara shares her recipes with students.
Maybe her grandmother and parents did the same thing to her.
Ambivalence
But to tell the truth, it took me a year to be an instructor at Niki's.
Another Niki's instructor from Colombia told me what she was doing. She asked me, "Clara, would you like to do that?" I told her that I would attend her class. I actually joined her and saw what she was doing.
I got interested in teaching. But my background is finance and marketing, totally different from cooking. I used to work at the IBM's finance sections in Venezuela and Japan. So I wondered if I could teach. Both my husband and I had never imagined that I would have my own cooking class. Also I hesitated to let unfamiliar people in. I think almost all instructors were like me.
Naoko Tanase, a founder of Niki's Kitchen, visited here and had my pabellon criollo. Then she asked me, "Would you please cook for Niki's students?" I decided and said, "OK, I'll do that". I opened my class in April 2010.
Originally I love setting tables and entertaining people, so it's enjoyable for me to have a class. And I can learn something at Niki's, too. I have to prepare a new recipe every month. I have to think a lot and imagine how I would feel when I had this menu. So it takes some time to create every single one. To me, having a class means revealing to my students my way of life. I share what I love with them. If I sum up the nature of Niki's Kitchen, it's "sharing". We instructors are sharing things with students, not teaching them.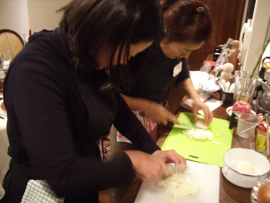 Practice makes perfect!
Born to be international
In Venezuela, we're curious about outside of the country. Venezuelan people have a lot of opportunities to study abroad, especially in US or Europe. But most of us go back home. On the other hand, I'm not a typical Venezuelan. I went to the US, I met my fate there and had gone to a distant country, I didn't return home.
My family is international. My father's ancestors are Spanish and the roots of my mother's family tree reach France. I went to the US to study and worked there for many years. I met my husband there and got married in the 80s.
No one else is married to a Japanese person even though many of my cousins married foreigners. I'm the only one who has a Japanese husband and my cousins welcomed him. They've been interested in what's happening here in Japan since then.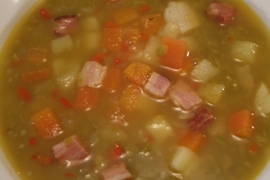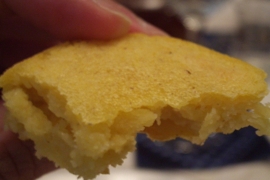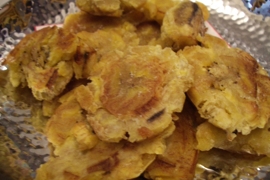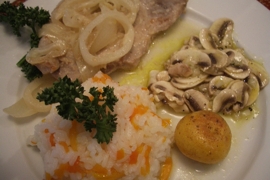 Venezuelan home dishes called "criollo".
*If you want to learn how to make a Venezuelan Valentine's Day dessert, Click here!
No fear, no wall, no hesitation
But I'd never imagined that I would be here before I met him. To us, Japan is the other side of the planet. My husband was transferred to the Japanese headquarters of his company so I followed him. Originally I didn't have a fear of moving to somewhere else because I believe that we can go everywhere in the world in 24 hours.
Also I'm always open to new food or flavors. I had sushi for the first time in Chicago with my husband, but I had no hesitation in eating raw seafood at all. I don't like to look for differences, I prefer to find similarities. Both Venezuelans and Japanese eat fish, meat and rice. If there's any differences, how to cook and how to eat, that's it.
I didn't care about my husband's nationality or skin color at all when I met him. We could eat the same things, we could enjoy the same things together. That was the most important thing for me.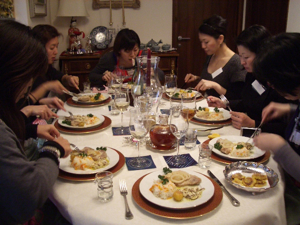 What is Niki's Kitchen to you?
Things that I learned represent who I am. So Niki's is a place to show who I am to Japanese people
and share my culture or heritage with them.
After coming to Japan, I've been enjoying life. Japanese are very kind and hospitable. There's nothing to complain about. My life became richer through getting to know people and culture. I think I've grown up more in Japan.
It gave me an opportunity to give something back to Japanese people.
Clara's Links
Her page on Niki's Kicthen (Japanese):Click!
Treasure of Earth:www.treasureofearth.com (Her online Japanese ceramics shop)
Clara on the radio (Aired on Feb.12, 2011) Weblog:Click!